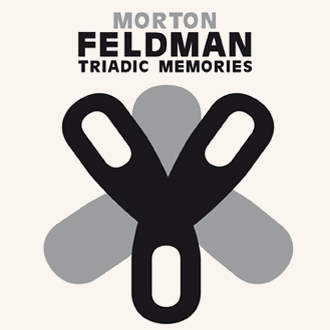 Inner text for my second recording of Triadic Memories by Morton Feldman (Sub Rosa, 2010)
In the summer of 1990, I realised on Sub Rosa a recording or Triadic Memories by Morton Feldman (1926-1987). It was one of the first recordings of this long work for solo piano completed on July 23, 1981. The score I used had been published by Universal Edition as number UE 17326 in 1987. Shortly after my CD came out, Universal published a new edition. At the bottom of page 2, under a dedication to Aki Takahashi and Roger Woodward is a small-print mention: "corrected version: 14.2.1991".
I disregarded it for a long time. I had carefully read, annotated, analyzed, laboured over, performed live, and recorded my 1987 score. The work sounded great, the design of the edition was flawless, the composition was coherent from A to Z, and no erratum had been published. In my eyes, that score was the work. Many listeners said they liked my meditative album, and I was pretty proud of it.
But there was one thing lingering in my mind. In this piece, like in so many others, Feldman organizes repetitions – both literal and slightly modified – in a very peculiar way. He establishes a strict system of "repeat marks" (notation telling you to play a passage twice). Some of these marks, for instance, are unusually placed in the middle of bars, this altering the time signature, akin to a tape edit. It was very obvious that, in the light of all the strategies used in the score to disorient the listener's memory and destabilize his expectations – the clear goal being to facilitate the act of listening immediacy of sounds, where what came and how – that the classical principle of the two-time repeat quickly grows systematic – i.e predictable – and therefore in esthetic contradiction with Feldman's "a-mnesiac" writing. So I had allowed myself, here and there, to add an impromptu repeat, although I had kept this device to a minimum, out of respect for "the" score, just enough to attenuate the unacceptable predictability of those mechanical repeats. By doing so, I was aware that there was something wrong with the composition, but I never suspected this could be the result of a misleading edition.
I went on several other projects, and I considered the matter closed. However, much later, due to a few incomprehensible exterior signs, I decided to order a new score of Triadic Memories. I immediately noticed the "corrected edition" mention. The score's layout looked exactly the same… except for a tiny detail: starting on page 5, small digits start to appear above most of the repeat marks. These numbers, which were omitted in "my" score, obviously indicate the number of times some passages should be played – not twice, but 3, 4, 5, 7, up to 11 times! This tiny notation detail has tremendous consequences on the form of the composition. Universal had not even cared to inform me of issue. I was mortified.
With incredible generosity, Sub Rosa offered me to produce a new recording of this work, exactly 20 years after the first one. I did everything to rap into the spirit of the 1990 recording: same piano, same recording engineer (Daniel Léon), same working method, same approach to the keyboard… now with the right score: my own "corrected version".
The truth is, it's all different. Since the first recording, I have changed, and time has passed on Feldman's music. These multiple repeats entail a whole different management of the global form of the work. So it is not simply the same thing without the unvoluntary treason: it's something different. To me, there is no possible "corrected version". The 1987-1991 edition was simply a different work, one that had not been completely drawn by its maker, and which presented different issues to its performer. A "near identical" found miles away from the "real" in a Jorge Luis Borges library.
Jean-Luc Fafchamps, 2010.